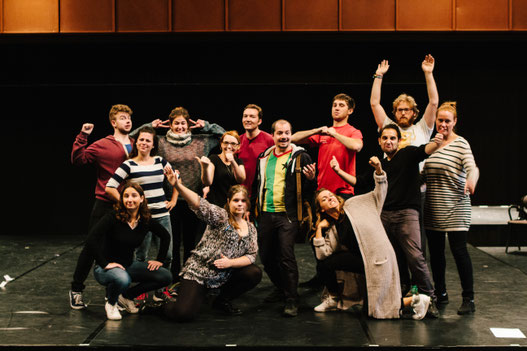 Da ich im folgenden Artikel über das deutsch-polnische Improtheater schreibe, welches ich auf Englisch leiten werde, habe ich ihn auch mal kurz auf englisch verfasst. Viel Spaß!
Last fall I had the opportunity to work on a ten day improv-workshop with german and polish students from Bochum and Krakow. The workshop was organized by boskop and it was embedded into a vaster program of german polish exchange activities. Those young people didn´t know each other before and it was a great experience for me to see them work together on stage for the first time. Throughout the workshop they not only learned about improv from me and thus developed artistically but also they learned from each other and became friends. We had a great performance in Bochum in the end and I must say it was inspiring for me to see the developement that these young adults went through, knowing that I had my share.
Needless to say that I was very happy, when boskop asked me to redo the workshop this year. I accepted and now I am pleased to tell you that you can still participate. So if you are a student at a university in the Ruhrgebiet, under 26 years old, interested in theatre and you want to get to know other people from a different culture then you can get further information and apply under:
http://www.akafoe.de/kultur/angebote/deutsch-polnisches-theater/
The deadline for registration is june the 1st so hurry up! I am looking forward to it!
Keine Sorge übrigens. Wie ihr an den Bildern seht ist die Anmeldung auf deutsch ;) !